Buy online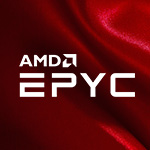 With the AMD EPYC™ processor family, the goal is to provide the customers with the right performance, in cores and speed, for the workloads they run in their environment. AMD is growing the EPYC family and giving the customers more performance choices for their workloads.
AMD EPYC™ 7662 - this processor is a great entry point into the 64-core market, providing customers access to the same high-performance "Zen 2" cores as one of the world's fastest x86 server processors with the AMD EPYC 7H121, but at a lower cost point compared to other mainstream AMD EPYC 64 core processors.
AMD EPYC™ 7532, provides customers with high performance, 32 core processor with a total of 256MB of L3 cache, the same amount as the 2nd Gen EPYC 64 core processors.
These two processors still have all the features of the 2nd Gen AMD EPYC processor family including 128 lanes of PCIe® 4.0, support for up to 3200MHz memory and advanced security features2.
| | | | | | |
| --- | --- | --- | --- | --- | --- |
| Model | Default TDP (W) | Cores | Threads | Base Frequency (GHz) | Max. Boost Frequency (Ghz)3 |
| 7662 | 225W | 64 | 128 | 2.0Ghz | Up to 3.3Ghz |
| 7532 | 200W | 32 | 64 | 2.4Ghz | Up to 3.3Ghz |
1. 2P 2nd Gen EPYC™ 7H12 powered server has set the 2-socket world record on the SPECrate® 2017 Floating Point (Base) benchmark with a score of 529 SPECrate® 2017_fp_base.
2. Some supported features and functionality of 2nd Gen AMD EPYC™ processors require a BIOS update from your server manufacturer when used with a motherboard designed for the 1st Gen AMD EPYC series processor. A motherboard designed for 2nd Gen EPYC processors is required to enable all available functionality. ROM-06
3. Max boost for AMD EPYC processors is the maximum frequency achievable by any single core on the processor under normal operating conditions for server systems. EPYC-18
Contact ASBIS managers in your country to get more information about AMD EPYC™ products.