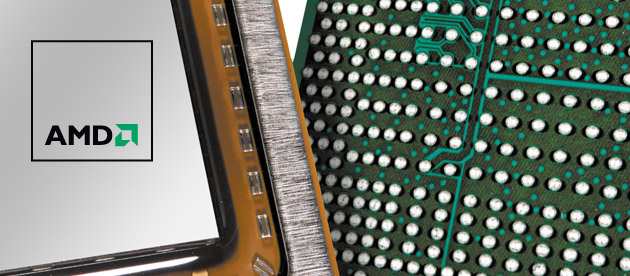 About AMD
Founded in 1969 and based in Sunnyvale, California, Advanced Micro Devices, Inc. (AMD) is an innovative technology company dedicated to collaborating with customers and technology partners to ignite the next generation of computing and graphics solutions at work, home and play.
AMD Products and Platforms
We are a global semiconductor products company designing industry-leading:
x86 microprocessors for the commercial and consumer markets; embedded microprocessors for commercial, commercial client, and consumer markets; and chipsets for desktop and notebook PCs, professional workstations, and servers.
Graphics, video, and multimedia products and technologies for desktop and notebook PCs, professional workstations, servers, and game consoles.
In 2009, we began to redefine our strategy to focus on how people think about and interact with computing technology. One single overarching principle-what people are doing with their technology-guides how AMD designs and markets its products.
Today's consumers want technology that offers the world's most vivid digital experience. They want mobility without compromising the experience of full-featured notebooks. Today's business PC users want to maximize productivity. Today's enterprises want their servers to be high-performing and energy efficient, and to leverage the potential of virtualization and cloud computing.
In 2009, AMD transformed into a semiconductor design innovation leader and delivered a top-to-bottom portfolio of platforms and products to meet the needs of today's users, including:
Introducing VISION Technology from AMD, a differentiated approach to retail merchandising designed to reinforce the value proposition of AMD platforms and to simplify the consumer buying experience.
Achieving outstanding execution across all major product launches including 1st Gen AMD Ultrathin Platform and 2nd Generation Ultrathin Notebook Platforms; "Dragon" desktop platform technology featuring AMD Phenom™ II processors; mainstream desktop platforms featuring the AMD Athlon™ II processor; mainstream notebook platforms featuring the AMD Turion™ X2 processor; and the Six-Core AMD Opteron™ processor for servers, launched five months ahead of schedule.
Launching next-generation DirectX® 11 capable ATI Radeon™ HD 5800 and HD 5700 series of graphics cards, powered by some of the world's fastest graphics processors.
Expanding users' view of gaming, productivity, and entertainment with ATI Eyefinity advanced multiple-display technology. Supporting up to six independent display outputs simultaneously, ATI Eyefinity technology delivers innovative graphics display capabilities enabling massive desktop workspaces and ultra-immersive visual environments for the ultimate panoramic computing experience.
Securing design wins to now total 80% of the current generation graphics in game consoles, led by Nintendo and Microsoft.
Delivering a high-definition video playback experience on Adobe® Flash® player through ATI Stream technology.
Powering four of the top five supercomputers in the world, as measured by the Nov. 2009 Top 500 super computer site list (www.top500.org).
Transitioning all our product lines from 65nm to 45nm process technology, successfully and on schedule.
Shipping our 500 millionth x86 processor.

AMD Ryzen™ 5000 Series Desktop Processors – The Fastest In The Game
Mr. Paul Anlin, Ph: +971 4 8863850 Ext: 117, Email: paul@asbisme.ae

Address: Jebel ALi South Zone 1, Dubai, UAE.