BUY ONLINE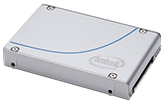 Lasting Integrity

You can't afford to lose key business data—or your beloved family photos—to hard drive failure. That's why Intel® Solid State Drives (SSDs) are built with proven end-to-end data protection and the highest level of drive reliability. Intel SSDs:



Keep your data safe through millions of interactions
Stand up to more than 2 million PLI cycles and self-tests without losing data, even during power loss.1
Are 100 times more reliable at preventing Silent Data Corruption, to ensure your files, photos and key pieces of information are there when you need them.2

Reliably Effective Performance

When you invest in an SSD, you want to ensure that it will perform beautifully for years to come — no matter how much you stress it. Intel SSDs:



Are tested more rigorously than the competition: thousands of drives in thousands of different configurations, over one million power cycles.
Provide substantial consistency of performance.

Platform Confidence

Ensure that every component in your system works together. Intel SSDs with other Intel components, like chipsets, network interfaces, firmware, and drivers, offer a combined Intel system.
Product and Performance Information
1 Intel® Datacenter Drives provide robust Power Loss Imminent (PLI) circuitry that helps to protect inflight data in the event of power loss. Intel® drives monitor the health of the PLI circuitry via a Self Cap Test using SMART attributes. Samsung PM853T* and SM843T* drives were checked for capabilities and flags. No PLI monitoring capabilities (e.g. SMART Attributes) were listed in the Samsung* drive specification sheet. Additionally, the drives were tested by powering off a drive and removing one electrolytic (or any other type) capacitor. The drives were then powered up to recollect SMART attribute data to determine is the cap test detected the removal of the capacitor. The Samsung drives did not detect capacitor removal. 2 Test performed on Intel® SSD S3x00 drives, Samsung PM853T* and SM843T, Micron P400e*, Seagate 600 Pro* and SanDisk* Lightening drives. Drives were exposed to increasing amounts of radiation. After a drive "hang", a power cycle was performed to determine whether the drive would re-boot. If a drive re-booted it was read, and data was compared to the tester's master copy of the up-to-date data that the drive was expected to contain based on writes the drive had acknowledged as completed prior to the "hang" event. If the drive returned data that differed from the expected data, it was recorded as failing for silent errors. The annual rate of silent errors was projected from the rate during accelerated testing divided by the acceleration of the beam (see JEDEC standard JESD89A).