BUY ONLINE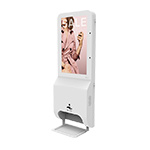 Prestigio IDS Hand Sanitizer
Obviously the pandemic will not pass without a trace, and in the future people will continue to be wary of their health. Therefore the Prestigio IDS Hand Sanitizer solution will be relevant for a long time.
The main features of the device are the built-in automatic dispenser of disinfectant with a capacity of 3 litres, as well as the presence of a body temperature sensor with the ability to measure temperature at a distance of up to 0.5 m and display information on the screen. The device reacts to an increased temperature with a sound signal, so the threat will definitely not go unnoticed. This feature allows you to monitor the health of others and ensure their safety.
At the same time, the IDS Hand Sanitizer has all the features and benefits of traditional Digital Signage devices.
The bright and clear 21.5" FHD display allows you to broadcast rich static or dynamic content, promotions and any other information, while the built-in speakers add sound effects and make your advertising campaigns even more realistic.
An integrated PC based on Android 7.1 allows the device to be used in conjunction with the specialized Prestigio-Addreality software, which makes it possible to create, configure and manage advertising campaigns remotely on multiple devices in real time. A built-in 2MP front camera on the device allows you to even set up targeted advertising campaigns for various target groups and collect analytics by audience.
The metal case and display with 3mm tempered glass is resistant to damage and allows you to use the device in any room. Prestigio IDS Hand Sanitizer comes with a stand that is adjustable in height. This means that it can easily fit into any interior by placing it on the wall or installing it as a free-standing solution.
Introduce your company to your customers, show the latest commercials or current promotions, launch corporate videos while taking care of the health of your visitors or employees with Prestigio IDS Hand Sanitizer.
Learn more about IDS Hand Sanitizer (PDSIM21CAN0P).
About Prestigio
Prestigio is an international brand that has been offering a wide range of consumer electronics for home, education, and business for more than 15 years. The company sells products in 30 countries around the world, with over 25 million devices sold during its history.
The brand's products include smart devices and accessories, innovative solutions for business and education. Prestigio introduced the world's first interactive keyboard with touchpad on keys, as well as smart speakers, portable acoustic systems, hidden wireless chargers, graphene-based power banks, and this is just the beginning. The company's slogan for launching new products is 'The art of hi-tech', as special attention is paid to innovation, high-quality premium materials, and modern technology.
The Prestigio brand is owned by ASBISC Enterprises Plc., one of the leading IT product distributors in the EMEA markets. It has production, design, and technical facilities in Europe, China, and Belarus. Prestigio has offices in 15 countries in various regions, including the CIS, Ukraine, Europe, Middle East, and Africa.