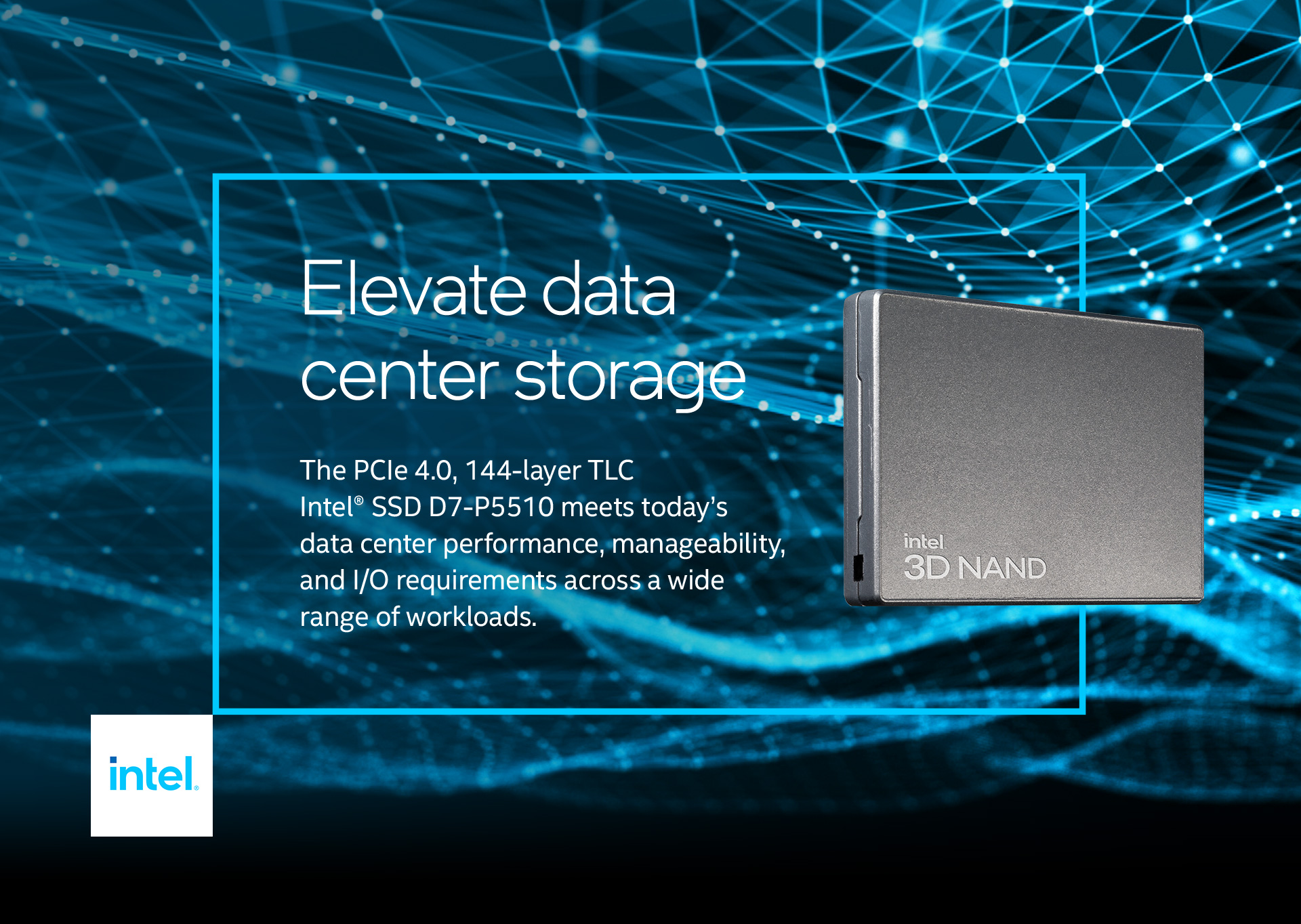 Accelerate Storage Workload

With lower latency

Up to 2x higher sequential read performance1 and 50% lower latencies2 than the previous generation Intel® SSD.
Up to 50% increase in mixed workload IOPs (70% read, 30% write)3 than the previous generation Intel SSD.




Improve Manageability

For increased efficiency, security, and monitoring

Elevated application performance with a multitude of firmware enhancements specifically designed to improve IT efficiency and data security.
Dynamic multiple namespaces enhance runtime provisioning and storage management.
Telemetry makes a wide range of stored data accessible and includes intelligent error tracking and logging.

Increase Agility

With Intel® NAND technology

Industry-leading areal density4 and data retention.5
Confidently scale storage arrays to meet growing needs.
Conquer increasingly I/O-intensive workloads, including AI and analytics.
Model Name:
Intel® SSD D7-P5510
Capacity and Form Factor:
U.215mm: 3.84TB, 7.68TB
Performance:
128K Sequential R/W up to 7000/4194 MB/s 4KB Random R/W up to 930K/190K IOPS
Interface:
PCIe 4.0x4,NVMe 1.3c
Media:
Intel® 3D NAND technology, 144-layer, TLC
Endurance:
1DWPD, up to 14 PBW
Power Consumption:
Avg.Active Write: Up to 18W Idle: 5W
Reliability:
UBER: 1 sector per 1017bits read
MTBF: 2 million hours
Warranty:
5-year limited warranty
Mr. Wajahat Ali Shaikh, Ph: +971 4 8863850 Ext: 117, Email: wa@asbisme.ae

Address: Jebel ALi South Zone 1, Dubai, UAE.
1,2,3,4,5 Source: "CloudInspired.PerformanceOptimized."
Performance varies by use, configuration and other factors.
Performance results are based on testing as of October 2020 and may not reflect all publicly available updates. See back up for configuration details. No product or component can be absolutely secure. Intel technologies may require enabled hardware, software, or service activation.