BUY ONLINE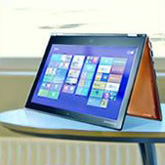 It's versatile: The perfect balance of laptop and tablet
Adaptability is an essential feature of a 2 in 1. One moment you need to edit a presentation. And the next, you need to catch up on an entire season of your favorite show. A 2 in 1 converts with ease. Whether you need to lean into work or lean back and relax, it's ready.
It's personal: Touch, twist, bend
Be intuitive, playful, and hands-on. A 2 in 1 device adjusts to you. Allowing you to flip, detach, or switch in a flash. And with over 50 types to choose from, it's simple to find one that moves the way you want.
It's powerful: Amazing Intel performance
2 in1s set the pace with best-in-class performance. With long battery life, 2 in1s have processing power that works hard when you need it most. Stunning visuals and responsive touch-screens complete the package, making the 2 in 1 perfect for games, movies, and full versions of business apps.
It's great value: More capable. Less cost
Why two devices when one will do? A 2 in 1 can handle all your needs from spreadsheets to gaming. So you can streamline the number of devices you need. A 2 in 1 is an elegant, adaptable solution that reduces hassle and increases savings.