Toshiba Adds Half-Terabyte Portable External HDD to Personal Storage Line

Sleekly Designed, Easy-to-Use Portable Digital Library Stores Up to 142,000 Digital Photos or 131,000 Digital Music Files

Toshiba Storage Device Division (SDD), the industry pioneer in small form factor hard disk drives (HDDs), today introduced a half-terabyte model to its personal storage line, providing consumers with a high-capacity warehouse and easy-to-use data backup solution for personal digital files, music libraries, home videos and other digital memories.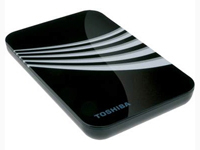 The new 500GB Toshiba USB 2.0 Portable External Hard Drive comes with a glossy black finish and frost white contemporary graphics that will appeal to consumers looking for the latest must-haves in personal electronics for their home office or study - or to throw in their backpacks and travel cases, thanks to easy portability. An added bonus for home use is the new 500GB model's ultra-quiet operation, with improved acoustics in the hard drive.
Offering enough storage capacity for up to either 142,000 digital photos, 131,000 digital music files, 222 hours of DVD-quality video or 58 hours of high-definition videos, this new personal storage solution is ideal for consumers looking to centralize and store their favorite music, photo and video collections.

Toshiba's new 500GB model is the latest addition in a personal storage line that focuses on making digital storage and backup a snap for consumers. Toshiba storage products offer portability, ease-of-use and protection against wear and tear, enabling any user - regardless of their technology proficiency - to easily back up digital data and create entertainment libraries. Featuring award-winning NTI Shadow(TM) software pre-loaded on the drive, this all-in-one solution enables consumers to set it and forget it in just a few simple steps.

"Consumers are looking for simple and hassle-free tools to organize and preserve their favorite digital content and ever-expanding entertainment libraries," said Manuel Camarena, product manager for consumer storage at Toshiba Storage Device Division. "Toshiba's new 500GB portable hard drive delivers a cost-effective and easy way to make data backup a regular practice, which is critical with the amount of personal digital content consumers are amassing. That amount of capacity packaged in an effortless, do-it-yourself solution enables consumers to easily archive digital photo and video memories, as well as create portable entertainment libraries of music, movies and more."

Stylish Portable Storage for Work and Home

Toshiba's new Frost White and Black 500GB portable hard drive joins the existing Electric Blue 400GB, Carbon Grey 320GB and Hot Rod Red 250GB models, providing consumers with a wide spectrum of choices in both design and capacity.

Powered via USB 2.0, these personal storage products are approximately the size of a postcard and weigh a mere six ounces for easy portability. The drives are built to withstand normal wear and tear, with special features such as an internal shock sensor, ramp-loading technology and anti-slip footpads to help anchor the drive in place.

Toshiba's new 500GB USB 2.0 Portable External Hard Drive available now at ASBIS.

Product Specifications Product Name Toshiba USB 2.0 Portable External Hard Drive Capacities 500GB(1) Colors Frost White and Black Weight 6 ounces Dimensions 0.65" (H) x 3.19" (W) x 5.0" (L) 16.6mm (H) x 81.0mm (W) x 127.0mm (L) Interface USB 2.0 Compatibility & System Requirements Microsoft(R) Windows(R) 2000, Windows XP or Windows Vista(R) Macintosh(R) OS X 10.3.9 or later Available USB 2.0 Port Inside the Box Toshiba USB 2.0 Portable External Hard Drive USB 2.0 cable NTI Shadow(TM) software (pre-loaded) Quick install guide 3-year limited warranty Certifications FCC/CE/UL approved RoHS compatible(2) Designed for Windows(R) XP and works with Windows Vista(R) Mac(R) OS X 10.3.9 or later (Universal Application)

Download product datasheet >>