CANYON helps you kick off the school year with practical and trendy IT-related products and accessories for your desktop PC or Notebooks. Make sure you are well-prepared for the new school year ahead, and make your pick among our wide range of clever and affordable solutions for your various needs and budgets. Here are a few suggestions:
A chat pack to stay connected
Stay connected with your family when going back to school with CANYON's Chat Packs, such as the CNR-CP8. It is a simple and user-friendly solution for Internet communications; all you need is in one box!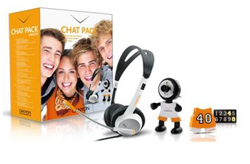 This bundle includes the cutest and most fun looking gadget in CANYON's portfolio is certainly the CNR-WCAM113. This USB webcam has flexible legs, arms and neck, and also a changeable outfit which makes it a playful gadget for your home or office. It also offers numerous features for an enjoyable and quality VoIP experience. The CNR-CP8 also provides you with a lightweight stereo headset featuring soft ear pads and an adjustable headband for a comfortable fit, and a flexible microphone offering a clear sound quality. This chat pack is compatible with the major instant messaging programs like MSN or Skype, as well as with all Windows versions available including Vista.
A bag for your notebook, papers and books
To carry your laptop around, it is essential to have a sturdy and comfortable notebook bag. CANYON selected many models with various features and great designs that match your lifestyle and meet your requirements. One of our most popular models is the CNR-NB3W. Practical and stylish, this trendy notebook bag complements your modern and active lifestyle. It contains a padded pocket to protect your computer and several compartments to carry around your water bottle, mobile phones, books, papers, etc. The bag is lightweight and features a comfortable shoulder pad as well as convenient handles. It is also made of an easy-to-clean, durable and water resistant fabric. The CNR-NB3W is an affordable packing solution for notebook sizes up to 15.4"
A portable digital photo frame to enjoy memories at all time
Display and enjoy your favorite pictures anywhere you want with CANYON's portable photo frame. Different models are available but all provide you with colorful images, a rechargeable battery, an easy USB connection, and great capacity to store your dearest memories. All of Canyon's digital photo frames are also compatible with Windows 2000/XP/Vista. The newest model is the CNR-DPF15x. It is compact, easy to use, and it is available in pink, blue, orange and green. It features a key chain for your convenience: Hang it to your backpack or house keys for a touch of colors, and show your cool pictures to all of your friends!
An optical wireless for more freedom

To enjoy more freedom when working on your notebook or on your PC, this optical wireless mouse is a great solution to avoid a clutter of wires on your desk.
The CNR-MSOPTW6 offers you an advanced optical sensor of 2.4GHz and a switchable resolution of up to 1600 dpi for an impressive performance. The mouse features 6 buttons and a scroll wheel, as well as a built-in storage compartment for its nano USB receiver. The CNR-MSOPTW6 has an ergonomic and compact design for a comfortable navigation, a high precision motion control and smooth tracking. This mouse is available in grey, and is powered by two AAA batteries (included).
A wireless adapter for more connectivity

The CNP-WF518N1 offers you freedom and convenience by providing wireless capacity (802.11n) to standard devices with USB ports such as desktop PCs and notebooks. This adapter enables an access to Internet as well as faster file sharing and printing at 150 Mbps. The CNP-WF518N1 is suitable for various operating systems, and is an affordable solution for a reliable and simple wireless network. This product is easy to install, and it has a compact and sleek design. For an optimized performance, CANYON recommends to combine this USB wireless adapter with the Router CNP-WF514N1, which also supports a high speed of 150 Mbps.
Wait! Canyon has more!
Explore our online catalogue by visiting our website www.canyon-tech.com
You can also download CANYON's latest product magazine here!
Or buy online directly www.asbis.com/buy-online