Buy online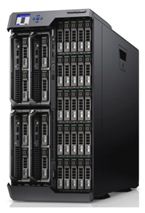 Central to the enterprise portfolio is the PowerEdge server family, delivering the precise levels of compute power your customers need, increasing productivity, improving efficiency, reducing costs and adapting to rapidly changing business requirements.
Here's a rundown of the new models and processor refreshes Dell is introducing this spring:
Dell PowerEdge R920: Built to handle mission-critical workloads
The development of the PowerEdge R920 is part of Dell's continued commitment to bring customers high performance and easily scalable enterprise technology at a cost-effective price.
In a recent SAP workloads study the R920 demonstrated:
A world record 4-socket Linux benchmark result of 24,150 benchmark users on the SAP SD 2-Tier benchmark.
A 71% improved performance over the previous best E7-4800 4-socket SAP SD benchmark.
Nearly the same performance in an SAP environment compared with the previous generation 8-socket servers, providing up to a 50% cost savings in software licensing to the customer.
In Oracle workloads testing, the R920 offered the following advantages:
Customers processing more than twice the number of Oracle OLAP queries than with previous generation server configurations and when coupled with a Dell Compellent Flash-optimized solution. More than twice the throughput to process larger Oracle OLAP data sets and twice the reduction in latency.
This workhorse server is designed to deliver real-time data during extremely demanding, mission-critical workloads. It can scale to match any challenge, provide faster results and run large virtualized corporate applications without disruption:
High performance, storage-rich, high I/O capacity 4S/4U server
Up to 96 DIMMs, 24 hard drives, 8 Express Flash PCIe SSDs, 10 PCIe Gen3/Gen2 slots
Up to 60 cores of processing and extensive high speed I/O for quicker data access
More built-in RAS features for high reliability

Click here to view the full spec sheet
Dell PowerEdge R220: Entry-level 1S 1u rack server

The 1-socket 1u PowerEdge R220 rack server delivers performance, data storage and protection, and intuitive systems management in a short-depth 15.5" form factor optimized for constrained spaces. It is an excellent choice for growing businesses and organizations needing a short-depth rack-optimized chassis delivering performance, data protection and enterprise-class systems management. The R220 is ideal for web hosting, mail serving, file and print serving, video streaming, as well as a wide range of general-purpose productivity applications:
Intel® Xeon® E3-1200 V3, Intel ® Pentium® and Intel® Celeron® processors – multicore Intel Xeon E3 v3 processors provide 33% more cache per core than the previous E3 v2 processors
4 x DDR3 U-DIMMs w/ECC at 1333/1600 MHz supporting up to 32GB
Fast I/O performance with 1 x PCIe Gen3 true x16 slot
Agent-free systems management simplifies tasks throughout the server lifecycle
Wide range of additional expansion, I/O and storage options

Click here to view the full spec sheet
Dell PowerEdge VRTX: Redefining Office IT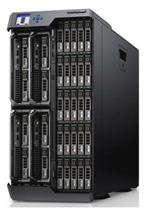 The simplicity of the Dell PowerEdge VRTX platform — which integrates servers, storage, networking and management into a single office-optimized chassis the size of a tower server (or 5U rack) — has received glowing reviews worldwide since its release (such as PC Pro Server of the Year 2013).
Extremely versatile, PowerEdge VRTX is suited to remote office, small business and more including use cases in retail, healthcare, education and other.

Click here to view the full spec sheet
Latest updates:
Additional server node choices
• 4-socket, full height PowerEdge M820 server node
More networking flexibility (available April 2014)
• Now 10GbE quad port internal NIC and 10GbE network
Next-level data protection inside the chassis
• Optional redundant PERC provides high availability RAID controller failover inside the chassis
Enhanced system management
• Parity between the Chassis management Controller (CMC) in the data center & CMC on VRTX ensures system management consistency and simplicity
Expanded support for VDI
• Support for optional GPGPU enables VDI in ROBO
Operating System
• Microsoft Server 2012 R2 certification
New Intel E5-4600v2 processors: More performance for PowerEdge M820 and R820 servers

The Intel Xeon processor E5-4600v2 product family now features in the PowerEdge M820 server and PowerEdge R820 server. The processor family is optimized to provide higher density, lower system price points and excellent floating point performance and performance per watt (PPW).