Reseller World Published an interview with Suchit Kumar Dy. GM, AOC, MENA & CIS
Considerable challenges confront new entrants but monitor manufacturer AOC believes it has the muscle to sail through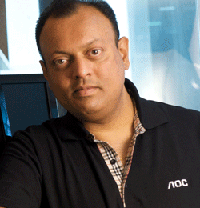 It is a tough market out there and perhaps tougher if you are a new entrant. It helps of course if you come with established credentials as one of the largest manufacturers worldwide. And yet, never was the market scenario as challenging as now, with consumer spend looking unstable. Precisely why the task is cut out for Suchit Kumar, previously with Kobian, who has moved on to take his new assignment as Dy. General Manager for AOC and will be managing Sales & Marketing (MENA & CIS) for the monitor manufacturer which is making its debut in the region.
Aware that PC monitors as a category has been affected by the decline in desktops vis-a-vis notebooks, the manufacturer is focusing on emerging markets, including the Middle East, Africa and CIS.
Kumar says, "Statistics indeed show decline of desktops in 2009 on overall volumes, but it's also showing on the other hand that overall forecasted volumes will be return to normal post 2010. Of course the penetration rate of Netbooks (and also notebook) today is increasing and this has influenced the slowing demand of desktops, indirectly impacting the demand of LCD stand alone monitor as well."
AOC therefore is investing much more resources in the emerging markets which including Eastern Europe, South America, China, Middle East, Africa and etc., that according to the manufacturer still represent significant growth possibilities for LCD monitors within the next few years.
"Besides, the company is also investing resources into TV as well as All in one PC categories, which will become key growing products for AOC within the next 5 years. Consolidating in the fast-growing TV and All-in-one PC, while on the other hand maintaining a reasonable growth rate in monitors, AOC is fully confident to face the possible decline in demand for monitors and maintain its average above 20% YoY growth," says Kumar.
Rationale suggests that the company will ride on a strong brand name that has been around for many years and is owned by a company that has a significant share in the worldwide display market. Admiral Overseas Corporation (AOC), was established in the US in 1967and is solely owned by arguably the world's largest display manufacturer, TPV Technology Limited (TPV). According to figures made available by the company, TPV sold over 47.6 million units computer monitors in 2008 including OEM sales, which represents 28.5% global market share of computer monitors. It boils down to the fact that every one out of four monitors sold in 2008 is a TPV monitor.
AOC, which is the leading brand from TPV, today offers a wide range of top performing CRT, LCD monitors & LCD TVs. On a year-to-year basis, the company claims it has maintained an average growth of above 20% for the past consecutive 3 years. And in 2009, AOC is targeting to sell over 20 million units globally, consolidating the sales of its owned 10 brands, like AOC, Philips etc.