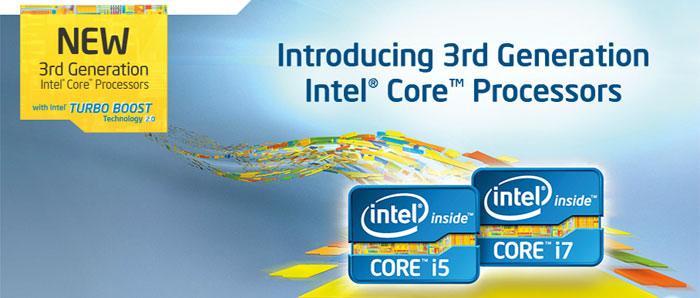 Discover limitless potential
Processor microarchitectures are interesting. As they get smaller, they not only consume less energy, but they also offer bigger performance possibilities. By taking an entirely new approach to processor microarchitecture, Intel has enabling limitless potential for your business.

New 22nm processor microarchitectures
With new 22nm, tri-gate transistors, Intel engineers brought new capabilities to the 3rd generation Intel® Core™ processor family. These features include:
Intel® Turbo Boost Technology 2.0
Offer your customers an automatic burst of speed when their computing needs demand it with Intel® Turbo Boost Technology 2.0
Intel® Built-in Visuals.
Help your customers create and show off visually stunning presentations, participate in HD videoconferencing and more—no add-in video card required
Intel® Quick Sync Video.
Simplify and accelerate a variety of digital video processes with this built-in component of all NEW 3rd generation Intel® Core™ processors.
3rd Generation Intel® Core™ i7 Processor. Get Visibly Smart, top-of-the-line performance for your most demanding tasks from your PC
| | |
| --- | --- |
| | 3rd generation Intel® Core™ i7 processors deliver top-of-the-line performance for your All-in-One or Standard PC. Intel® Core™ i7 processors keep up with your most demanding tasks for a difference you can see and feel in HD or 3D, multitasking or multimedia. The Intel Core i7 processors include advanced technologies that deliver faster, smoother, and richer PC and visual experiences for all of your favorite, demanding activities—from editing film to mind-blowing gaming. |
Buy online 3rd Generation Intel® Core™ i7 Processor in ASBIS B2B marketplace

3rd Generation Intel® Core™ i5 Processor. Enjoy rich visuals plus an automatic burst of speed when you need it on your PC
| | |
| --- | --- |
| | The most popular members of our Intel® Core™ processor family, the Intel® Core™ i5 processors deliver amazing performance with stunning visuals on your All-in-One or Standard PC, whether it's a laptop or desktop. The Intel Core i5 processors include many technologies that deliver incredible PC and visual experiences for all of your favorite activities—whether you're creating, sharing, exploring, or gaming. |
Buy online 3rd Generation Intel® Core™ i5 Processor in ASBIS B2B marketplace