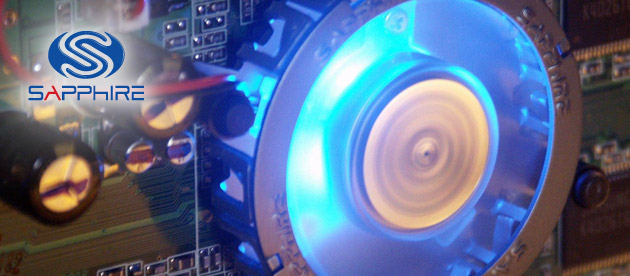 Sapphire
About Sapphire
Pioneers in a new era of how data is displayed and games are played, Sapphire shepherds the performance oriented with ground-breaking solutions to an environment that remains in a constant state of flux and ultimate evolution. For over ten years Sapphire has held true to its unwavering commitment, the commitment to deliver the most feature rich and soundly engineered products. Because of Sapphire's firm position on achieving excellence with each product that leaves our ISO9001 and ISO14001 certified factories, you can rest assured that your customers will recognize YOUR commitment to selling only the highest of quality components.
"Sapphire is ATI's largest and best performing partner World Wide" Dave Orton, CEO ATI Since ATI announced its manufacturing & distribution relationships with ODMs and AiBs in June of 2001, SAPPHIRE hasbeen THE key ATI Graphics Boards Supplier worldwide and now stands poised and ready to capture the mainboard audience of those who seek a stable platform for their mission critical operations. Captured within the circuitry of each of SAPPHIRE's graphic cards and mainboards can be found the collective feedback from generations of enthusiasts in every market niche. Brought to life through performance oriented innovation and an emphasis on quality control, SAPPHIRE designs, manufactures and distributes the most complete range of ATI video boards and mainboards--from the mainstream products that afford the casual user the opportunity to enjoy enriched graphics and affordable platform solutions to the state-of-the-art technological marvels that drive fantasies to before unattainable thresholds of realism, and offer the pinnacle of stability and performance!
SAPPHIRE refuses to compromise quality by cutting corners at the expense of its customers experience with their products. All ATI board designs undergo a stringent layout inspection by our staff of engineers to guarantee that they represent the usual high-quality image of ATI original boards. We also enjoy the resources of a highly innovative technical department that layout complex designs to accommodate different market niches as they arise. SAPPHIRE ATI video boards have long been the reliable choice for a great number of OEMs and large System Integrators in Europe, North America, Asia and Latin America based largely on our ability to meet a fast paced technical markets advancements as well as our means to produce large quantities of product.
Sapphire ATI Eyefinity Technology Benefits

Gaming - Immerse yourself in game play
Get a commanding view of the action, and enjoy more control in real-time strategy games.
Detect enemies sooner, react faster, and survive longer in first-person-shooter games.
See enemy aircraft with peripheral vision, and fly with greater spatial awareness in flight combat simulators.
Eliminate blind spots and feel a heightened sense of speed in racing games.
Productivity - Helps you get more done:
Optimize productivity by increasing PC desktop workspace with multiple high-resolution monitors.
Manage multitasking more efficiently, and view more data, applications, and images at once.
Avoid time-wasting application-switching, window-sorting, mouse-clicking, and scrolling.
Entertainment - Maximize your leisure time:
Group multiple monitors into a large integrated display surface for the ultimate wide-screen home theater display.
View TV sports, movies, or video entertainment on one monitor while viewing online stats, Internet pages, or games on other displays.
About ATI Eyefinity
ATI Eyefinity technology maximises your field of view across up to six displays, fully engaging your peripheral vision. For gamers this puts you right in the game and for other applications it helps to increase productivity by maximising your visual workspace so that you can see more windows simultaneously. ..

Watch the Video Show
Video describing how to connect three monitors to the latest HD 5000 series SAPPHIRE graphics cards and how to set up ATI Eyefinity...

Graphic Cards with Eyefinity
Looking for Eyefinity series graphic card? Here are all of sapphire Eyefinity family,You can always get what you want...


Learn more about Sapphire HD 5000 Series

SAPPHIRE HD 5770 FleX Simplifies ATI Eyefinity

Learn more about ASBIS Fusion Club For Resellers

Sapphire News

Buy Sapphire Products in ASBIS B2B Marketplace